Description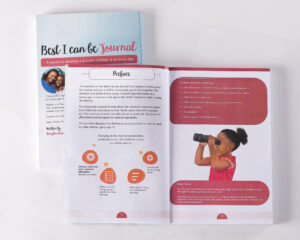 Behind every child who believes in themselves, is a parent who believed first and one who was intentional about their child's growth. Raising a wholesome child is every parent's dream. A child who is self-aware, one who understands their personality, who expresses their emotions and knows their values, will grow up a self-confident and self-aware individual and boy, doesn't the world need those!
The intention of the Best I can Be Kids Journal is to create a healthy space for a parent and a child to consciously spend time together while encouraging the child to get to know themselves. Through the pages of this journal, you will instill good habits, teach your child your family values, allow them the space to express themselves and their emotions.
The structured, undated format allows the interaction between parent and child to be customized to their family values that will be passed on to adulthood. The journal also teaches the art of gratitude, the power of affirmations and the space for creative expression.
Everyday at the most convenient time, preferably as part of a bedtime routine, you will be able to guide your kids through the powerful exercise of journaling.